Medium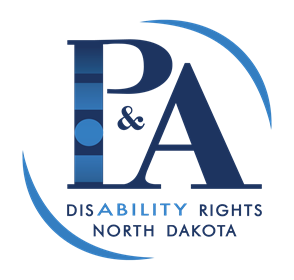 There is a protection and advocacy system for people with disabilities in each state and territory. Legislation establishing this system was passed by Congress in 1975.
In North Dakota, the organization designated by the Governor to serve as the protection and advocacy system is the Protection & Advocacy Project (P&A), also known as Disability Rights North Dakota. P&A is an independent state agency established in 1977 to advance the human and legal rights of people with disabilities. P&A strives to create an inclusive society that values each individual.
People served by P&A include infants, children and adults of all ages. The majority of funds for program operations are from federal grants. Additional support is provided by the State of North Dakota. There is no cost for services however, P&A does implement general eligibility requirements, including that the individual must reside within the State of North Dakota. P&A has different advocacy programs that serve individuals with disabilities:
Developmental Disabilities Advocacy Program
Mental Health Advocacy Program
Protection & Advocacy Project for Individual Rights
Protection & Advocacy for Beneficiaries of Social Security
Assistive Technology Advocacy Program
Help America to Vote Program
Protection and Advocacy for Individuals with Traumatic Brain Injury
Client Assistance Program
Strengthening Protections for Social Security Beneficiaries
P&A's staff comes from a wide variety of backgrounds. They are all trained to be knowledgeable about service delivery systems and the legal rights of people with disabilities.
P&A's Governing Board
P&A has a governing board called the Committee on Protection & Advocacy. It consists of seven members whose terms are specified in State statute. Appointments are made by the Governor (2 members), Legislative Council (2 members), The Arc of North Dakota, Mental Health America of North Dakota, and a non-profit advocacy group for people with disabilities selected by the Committee. Currently this seat is filled by an appointee of North Dakota Cares.
PAIMI Advisory Council
The PAIMI AC is made up of ten individuals knowledgeable about mental illness who have an interest in issues related to the quality of services and the rights of people with mental illness.The PAIMI Advisory Council provides input and advises P&A on activities and priorities pertinent to the PAIMI program. ·